Apple earlier this week announced the discontinuation of the iPod touch, and because it was the last iPod still available for purchase, its demise effectively marks the end of the entire iPod lineup.
To send the iPod on its way, we thought it would be fun to take a look at some of the most notable iPod releases of the last 21 years.
Original iPods (2001)
Introduced in October 2001, the original iPod was presented as a device that put 1,000 songs in your pocket. It became one of Apple's most iconic and well-known products, and is one of the devices that made Apple successful again.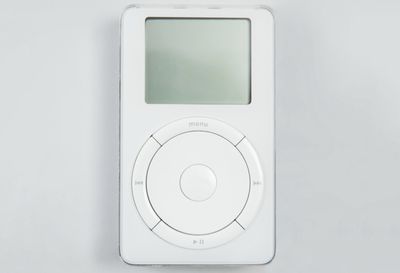 The original iPod offered a hard drive with 5GB of storage space and a physically spinning trackball, and it remains the only iPod with this design. It also featured a FireWire port for connecting to a Mac and sold for $399. Apple followed the original iPod with a nearly identical second-generation model in 2002 that featured a capacitive-sensing touch wheel with click buttons on the sides, and a third-generation model added an even more refined touch wheel with buttons on top. The third generation iPod also added a Dock connector.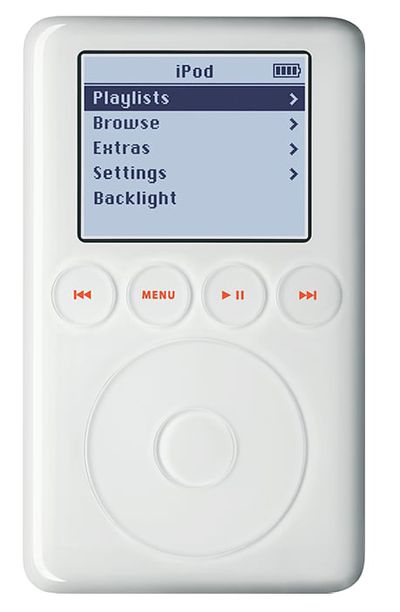 With the fourth generation model that came out in 2004, Apple introduced the Click Wheel, an iteration of the Touch Wheel that also incorporated the buttons. The fourth-generation model is notable in that Apple continued to use the Click Wheel for years to come.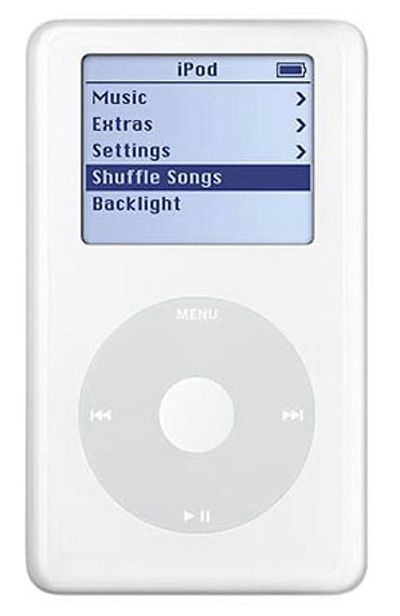 The iPod photo with its color screen followed the fourth-generation model later in 2004, and Apple expanded the color screen to all models in 2005 with the color screen iPod. Both were considered part of the fourth generation lineup.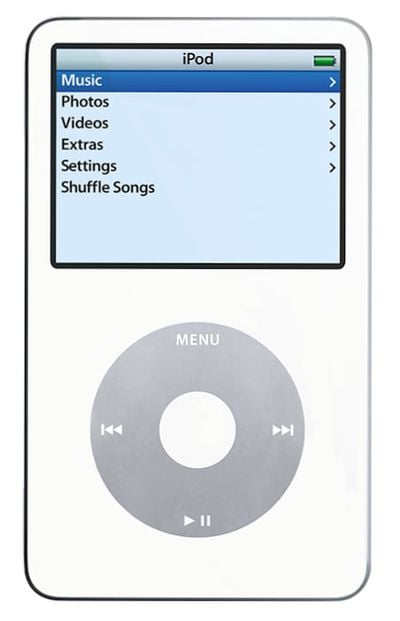 Apple added video capabilities in 2005 with the fifth-generation iPod, and this was also the first iPod to come in black other than the U2 black and red special edition iPod.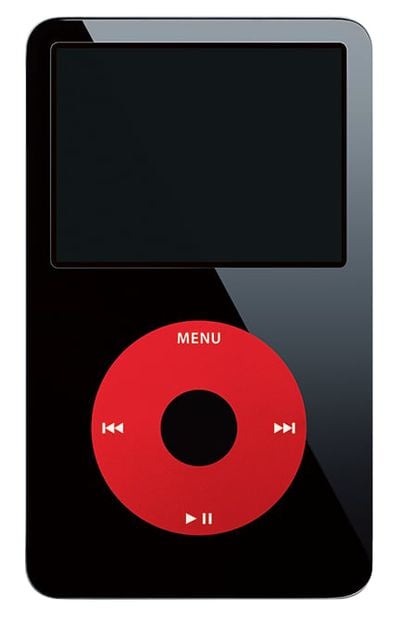 After the video iPod, Apple introduced the iPod classic and several versions came out in 2007, 2008 and 2009, all with a similar design. The 2009 iPod classic was Apple's last iPod in that size, and featured a 160GB hard drive, a click wheel, and a widescreen color display. It remained until it was discontinued in 2014.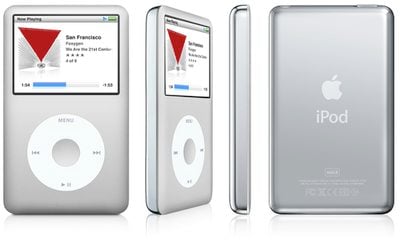 iPod mini (2004)
Apple's first iPod mini came out in 2004 and was much smaller than the standard iPod. It came in several fun colors including yellow, blue, pink, and gold, and it had a standard click wheel.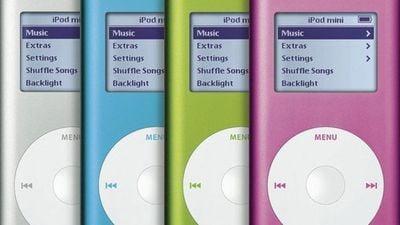 The iPod mini didn't stick around for long, and while there was a second-generation version in 2005, it was discontinued after that in favor of the iPod nano.
iPod nano (2005)
Replacing the iPod mini, the iPod nano is one of Apple's most interesting iPods due to the many major design iterations it underwent over the years.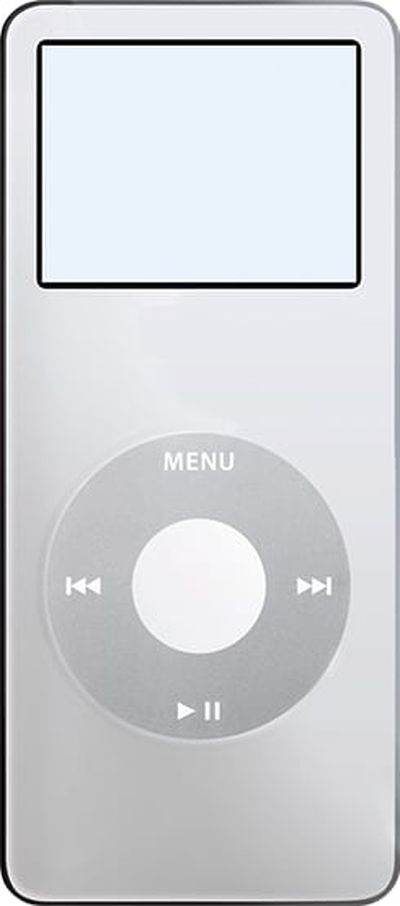 Apple started with a slim, aluminum-colored iPod with a click wheel, color screen, and flash memory that allowed Apple to reduce the size. The nano was replaced in 2006 with the second-generation version that had more rounded edges, a smaller form factor, and bright aluminum colors.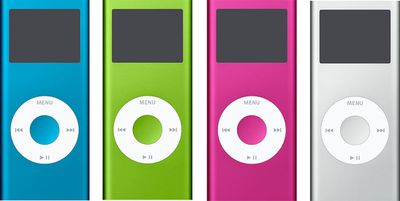 For the third-generation iPod nano that came out in 2007, Apple went in a completely different direction, and this nano was known colloquially as the "fat" iPod nano. It had a wider, squat body with a wider screen and came in several color options.


The nano fat only lasted a year before being replaced by the once slimmer fourth-generation iPod nano, which came in a rainbow of colors. It had a taller screen, a curved front, and an accelerometer for the "Shake" function that lets you shake an iPod to mix songs.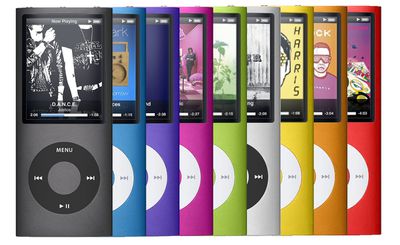 Apple's 2009 fifth-generation iPod nano was similar to the fourth-generation model, but had a taller screen and gained a camera and microphone. It also came in brighter colors, but Apple kept the wide range of color options.


The nano received a major design overhaul in 2010 with the sixth generation version being just a screen in a square body. It used a multi-touch screen instead of a click wheel, and this is the version that people attached watch straps to, making it sort of a precursor to the Apple Watch.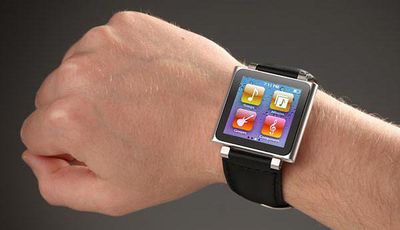 Apple changed the design in 2012 with the seventh generation iPod nano, returning to the rectangular shape but leaving the multi-touch screen in its place. The nano of this era resembled a smaller iPod touch, with a home button and support for multiple apps. The seven-generation iPod nano got new colors in 2015 before being discontinued in 2017.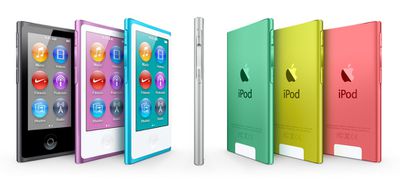 iPod shuffle (2005)
Apple's first iPod shuffle came out in 2005 before the second-generation iPod mini, and it looked a lot like an Apple TV Remote. It was Apple's first iPod without a screen, with nothing more than a control panel to keep the size down, plus it also doubled as a flash drive.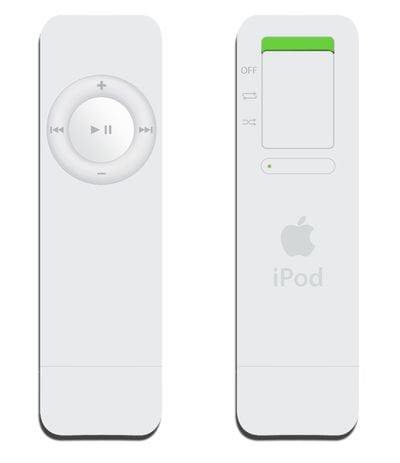 The second-generation iPod shuffle received a significant redesign in 2006, with Apple shrinking it to about half the size of the original and adding a belt clip. It was advertised as the world's smallest MP3 player at the time, and there was even a little iPod shuffle dock to charge via the headphone jack. It launched in silver, but Apple eventually introduced additional colors like pink, blue, green, and orange.


The iPod shuffle received another redesign in 2009, with Apple adding a voice feature that allowed you to say song and album names out loud using text-to-speech. This is the model where Apple removed the on-device controls, instead using headphones with an attached remote for playback.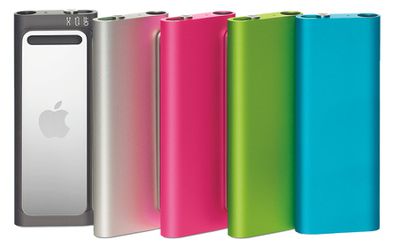 In 2010, Apple decided that the absence of on-device controls was a bad idea and introduced the fourth-generation iPod shuffle. The fourth generation model was the last iPod shuffle, with bright colors, a smaller chassis, and the return of the Control Pad.


The iPod Shuffle did not receive any other design updates, although Apple introduced new colors in 2015. It was finally discontinued in 2017.
iPod touch (2007)
The first iPod touch came out in 2007 alongside the iPhone, and was a more affordable ‌iPhone‌ alternative that didn't have cellular capabilities. It looked a lot like an ‌iPhone‌ with a 3.5-inch multi-touch screen and came with WiFi support, Safari integration, and apps like YouTube, Mail, Maps, and Weather.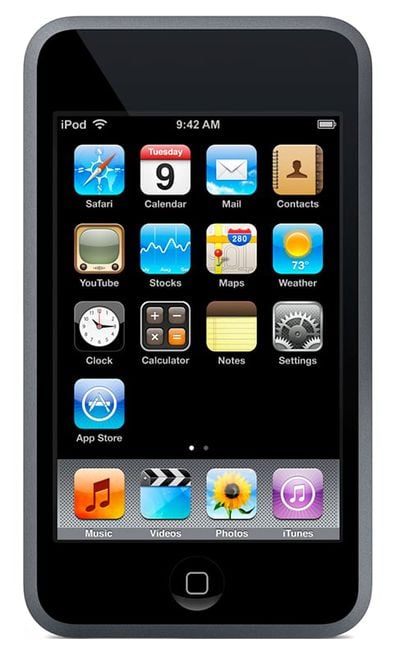 The second and third generation iPod touch models had the same design, but when the ‌iPhone‌ 4 came out in 2010, Apple also redesigned the iPod touch to have a similar look. It included a front-facing FaceTime camera, a rear-facing camera, and support for iMessage, plus it came in black or white.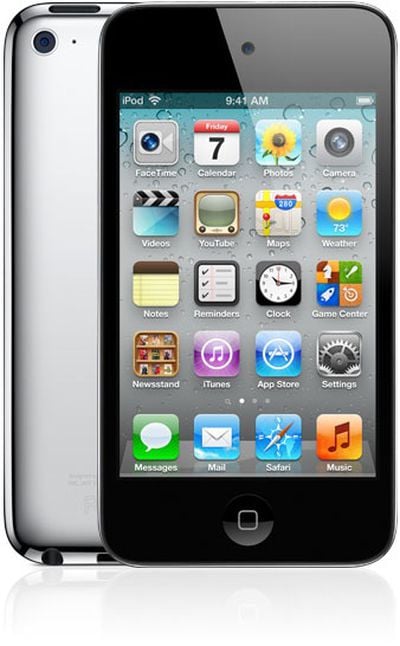 Apple redesigned the iPod touch again in 2012, and the fifth-generation model had a larger screen and a slimmer body, plus it was the first iPod touch to come in bright colors. It was released alongside the ‌iPhone‌ 5 as a pocket computer with an A5 chip.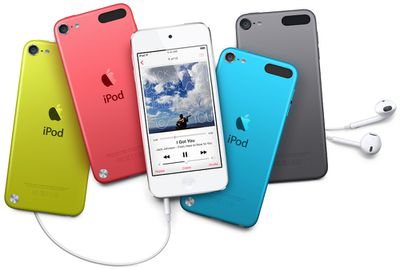 After the fifth-generation iPod touch, the design didn't change, but Apple introduced a sixth-generation model in 2017 and a seventh-generation model in 2019, both with updated chips. After the 2019 launch of the seventh-generation iPod touch, the device was not updated for three years until it was discontinued earlier this week.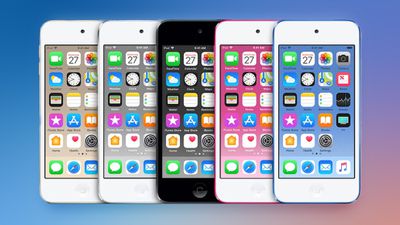 ipod replacements
Apple said it decided to cancel the iPod line because iPod capabilities are now built into every Apple device, from the ‌iPhone‌ and iPad to the Mac, ‌Apple TV‌, HomePod and Apple Watch.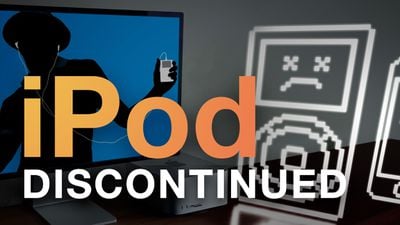 Almost all modern Apple devices support the Apple Music service that Apple introduced in 2015, and it's also available on the web, on Android devices, and more, making the iPod superfluous. Apple is selling the iPod touch while supplies last, but it's already out of stock in the United States.
You may still be able to find an iPod touch from a third-party retailer, but be sure to act fast because they are selling out fast as people scramble to get their hands on one of the latest iPods available.