The annual rate of inflation rose to 7% in April, according to figures released by the Central Bureau of Statistics, its highest rate in 22 years.
The CSO said this marked an increase from 6.7% in March and was the largest annual increase in inflation since November 2000, when inflation also stood at 7%.
The CSO said increases in utility bills and transportation costs accounted for nearly three-quarters of annual inflation.
While fuel prices are down slightly compared to March, diesel is 40% higher than a year ago, while gasoline is 24% higher.
Electricity bills are 28% higher and gas bills took a big jump and are now a little over 50% higher than they were in April of last year. Home heating oil is a little over 90% higher than it was a year ago.
Food prices were also higher last month, including prices for meat, bread, cereal, milk, cheese and eggs.
Meanwhile, the Governor of the Central Bank, Gabriel Makhlouf, has said that the ECB "needs to act" on the current level of inflation which he described as "worrying".
The Central Bank Governor's comments to the Ibec National Council this morning are the latest sign that the ECB is prepared to raise interest rates, possibly as early as July, in response to escalating inflation.
"We have reached the point where we in the Governing Council of the ECB must act," said Gabriel Makhlouf.
He went on to say that it was realistic to expect interest rates to probably be in positive territory early next year. Deposit rates at the ECB are currently -0.5%.
"I am well aware of the impacts of inflation on people's lives and businesses: it affects the whole community and some more than others," Gabriel Makhlouf told the Ibec conference.
"We know that those who are disproportionately affected are low-income households, the elderly and rural households. We have reached the point where the ECB Governing Council must act," he said.
"Our target is for inflation to be at 2% over the medium term – levels are significantly above that now – and it is time for the Council to move to end net asset purchases under the asset purchase programme. active next month or in July," he said. aggregate.
The monthly drop in some energy prices from March to April reflects how prices have fallen from the high levels seen during the first weeks of the Russian invasion of Ukraine. However, they are still significantly higher than a year ago.
The price of some services did fall by 1.6% compared to last year.
---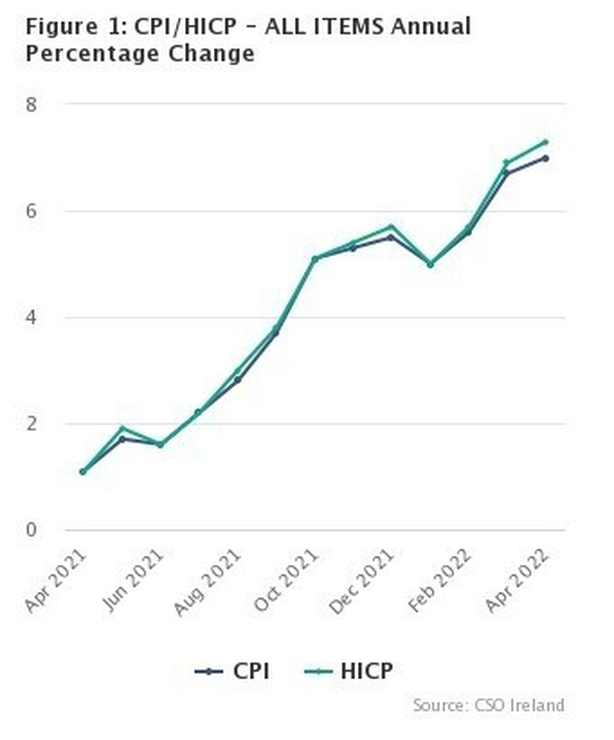 ---
However, food prices rise 3.5% annually. This includes an 11% increase in the price of flour, milk 8.9% and baby food 6.3%.
Private sector rents rose 9.3% annually, while hotel prices rose 20%.
The CSO also released today the National Average Prices for some goods and services. They show diesel prices in March at €1.95 per litre, 61.3 cents or 46% more than March 2021 prices. Gasoline at €1.93 per litre, 50.4 cents or a 35.3% more than last year.
The price of a 50cl can of beer to take home was €2.16, up 32 cents, while a 70cl bottle of vodka rose €3.18 to €23.90.