Test Drive: Canadians Retirement Prep, or CPR Software, May Be Worth a Look
Reviews and recommendations are unbiased and products are independently selected. Postmedia may earn an affiliate commission for purchases made through links on this page.
article content
For Julie Cazzin with Allan Norman
article content
Good financial planning software can be vital if you want to be in a position to make smart and confident decisions while adapting to change and learning the truth about your money—what it will do for you.
Is software always necessary? Not if you have 100 percent confidence in your advisors and/or yourself, and prefer answers to learning and understanding. Nor if your questions or problems are of a simple nature. Everyone else is more likely to use help, so let's take a look at a couple of packages that take into account salaries, Registered Retirement Savings Plans (RRSPs), Tax Free Savings Accounts (TFSAs) and other sources of income.
The HEC Montréal Savings and Retirement Institute provides free software, Canadians Preparing for Retirement (CPR), whose purpose is to determine a fixed retirement income based on current assets and future savings.
article content
I went through the software by entering information for two fictitious people who want to retire at age 65.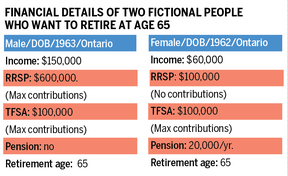 The first is a male, born in 1963, who lives in Ontario and earns $150,000 in annual income, with RRSPs totaling $600,000 and TFSAs totaling $100,000. He is making maximum contributions to both, and has no pension.
The second is a female, born 1962, living in Ontario, has an annual income of $60,000, with RRSP totaling $100,000 (no further contributions made) and TFSA totaling $100,000 (maximum contributions made), and an annual pension of $20,000.
The software works out a "consumption" replacement income, equal to your total income minus taxes, debt payments, and savings, at 80 percent and 65 percent retirement.
article content
Using what appears to be a sophisticated database, the program estimates your investment returns based on your current investments. Taxes are based on Quebec and Ontario provincial rates, with the suggestion to use Ontario rates if you are not from Quebec.
The program also assumes the full benefits of the Canada Pension Plan and Old Age Security for everyone once retirement begins, at which point all of your financial assets are converted into an annuity.
There are other assumptions or generalizations that I suspect allow the program to remain free for all.
It was quite easy to enter your information and there are options to add property and business values. Once everything was entered, I clicked a button and the results of their combined income appeared in the following table:
article content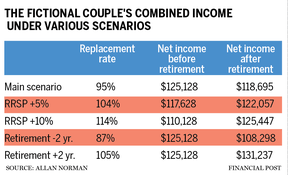 Reviewing the main scenario in the top row, consumption income (total income minus taxes, debt payments, and savings) before retirement is $125,128. The software suggests that 95 percent of that income could be replaced, or $118,695. The program assumes an inflation rate and indexes the previous two figures.
Looking down each row, you can see the differences as you increase your savings or retire sooner or later.
After adding your information and viewing the results, you can go back and change your savings rates and view a different set of results.
CPR is pretty good for a free software program. It is useful? I'm not sure. It provides an answer, but does it provide enough experiential learning to aid decision making?
article content
If all you want to know is how much fixed income you can expect in retirement, then this may be the software for you. But if you want to know whether or not you could spend an extra $10,000 a year traveling for the first 15 years of your retirement, then maybe not.
FP Explains: Everything You Need to Know About Using a Reverse Mortgage

FP Answers: Is it enough to use a simple online will kit to ensure that your estate will be distributed the way you want?

New rules boost financial protection for seniors, but getting them to opt in can be tricky
Is it accurate? I'm guessing it is, based on the assumptions made and the data sources used. I'm not sure it's believable. Generalizations made within the software cast doubt on the output, whether it is accurate or not. I can be more confident in the numbers if I could see the rates of return used.
article content
Having said that, the free CPR program isn't bad, and to be fair, I'm comparing it to professional planning software, which is way over the top.
The other free software you might want to check out is PERC, an enhanced Personal Retirement Calculator. of LifeWorks Inc. (formerly Morneau Shepell), as well as Whatifi of Anthill Inc. I came across Whatifi while preparing to write this article. It's not quite ready to run retirement plans, but it can be helpful in making everyday financial decisions. It reminds me of mind mapping software and is one to look out for.
As I said at the beginning, good software in the hands of a knowledgeable and experienced person is a vital combination for solving the hyper-complex questions associated with lifestyle and financial planning. Try the freeware I've listed and you'll learn something at the very least.
Allan Norman, M.Sc., CFP, CIM, RWM, is a Paid Certified Financial Planner with Atlantis Financial Inc. and a Fully Licensed Investment Advisor with Aligned Capital Partners Inc. He can be contacted at www.atlantisfinancial.ca either alnorman@atlantisfinancial.ca. This commentary is provided as a general source of information and is intended for Canadian residents only.
_____________________________________________________________
If you liked this story, sign up for more information in the FP Investor newsletter.

_______________________________________________________________